About Us
Founded in 1856, Abingdon King Dick is an established manufacturer of quality engineering tools.
Originally Abingdon Engineering, the company made a variety of goods, such as gear boxes, chains and motorcycles, for several years before concentrating solely on producing quality, professional user tools from the turn of the twentieth century onwards.
At that time the King Dick name and logo was adopted. It was that of the Company Owner's show winning bulldog, and was seen as being symbolic of British tenacity and strength of character:- The KING DICK brand was born. See our list of KING DICK Suppliers.
Now with a worldwide reputation for quality and performance, King Dick tools are chosen by today's discerning professionals, knowing that their rigorous demands for reliability will be achieved.
At each process, tight controls are in place to verify that the demanded tolerances have been realised. Only when proven, will the tool be released to the next operation. This means that each and every batch of King Dick products have been through numerous inspection procedures before reaching the final uncompromising quality inspection.
Only when all checks, tests, measures and requirements have been successfully achieved, are the King Dick tools accepted as suitable for release.
Tests are conducted at every process - boring, grinding, broaching, polishing, marking, hardening and plating each and every batch must pass each and every test. This challenging procedure confirms that the finished tool is made to the ultimate King Dick requirement, and continues our tradition of extreme quality for exceptional performance and satisfaction. Check out our products now.
British tools of such calibre provide the professional tradesman with total confidence in their ability to perform and to fulfil their operations and tasks in a safe, secure and efficient manner.
The ongoing King Dick development programme ensures that not only is extensive research carried out in-house but real-world situations are critically analysed to define the optimum requirements.
King Dick offers a huge range of high quality hand tools from; Wrenches, Socketry and Screwdrivers to Tool Sets, Tethered Tools and much more. To see our full range of tools visit our products page.
If you have any queries regarding any of our products, please contact us and we will do our best to assist you in your search for the ultimate King Dick Tool. Email or Call to talk to our teams of trained professionals. We take great pride in being King Dick Tools and want to give you the same confidence that our extensive range of quality tools are exactly what you are looking for. Call today and find out how our brilliantly British tools suit you.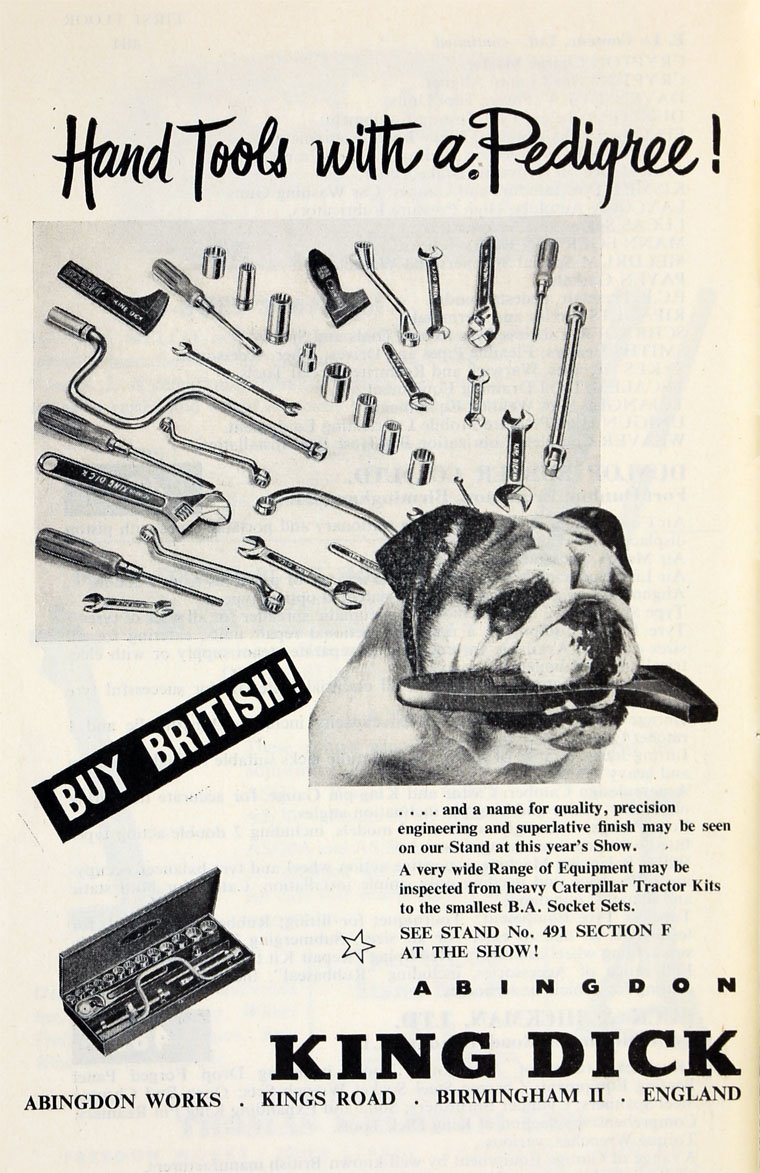 Why "King Dick"? The Abingdon King Dick name has been changed and rearranged numerous times over the years.
The company was founded in 1856 and named The Abingdon Engineering Company. They began producing a range of tools named "King Dick" the most famous of these being the "King Dick Spanner", this was the first introduction of the name, which came from the company owners show winning bulldog.
But it wasn't until 1945 that the company changed its name to Abingdon King Dick Ltd, to focus on the hand tools they made and sold.