02 - Jan - 2020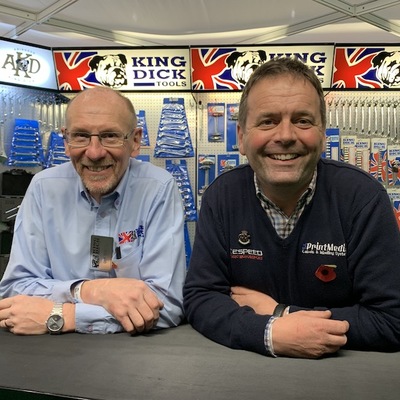 Ace Harrison announced as new ambassador for King Dick Tools
Founded in 1856 as Abingdon Engineering, King Dick Tools began manufacturing a range of components and motorcycles, before becoming a maker of high quality tools. Adopting the 'King Dick' name - after the company owner's bulldog – it is the only remaining spanner manufacturer in the UK.
It is the perfect association for Andy who was given his nickname of 'Ace' by the late, great Barrie 'Whizzo' Williams. Having started his motorsport career in marshalling before competing in local events with the Shipley Motor Club as soon as he was old enough, Andy has been involved with racing and rallying for around thirty years.
Selling, restoring and preparing Minis for both road and competition, Andy established Acespeed in 1995 and became involved with the Mighty Mini Championship four years later. Plenty of success followed, and by 2008 he was a favourite on the historic racing scene, competing at Silverstone and Goodwood as well as in Historic Sports Car Club and Historic Racing Drivers Club events.
Along with building his own race and rally cars, Andy also manages the racing programme of other drivers, providing the likes of arrive-and-drive packages and on-track services. And if any further confirmation of his love for motorsport is needed, he is also the lucky owner of one of the Austin 1800s that took part in the 1968 London to Sydney Marathon. Of course, the road car side of his business remains as busy as ever, and he is currently restoring 'Frankie', the 1964 Mini Cooper S owned by Wheeler Dealers star, Mike Brewer.
Of his role as ambassador for King Dick Tools, Andy says: "When you are at the race track and working under pressure to repair or improve a car between heats, great tools are as much a part of the team as our excellent mechanics. Knowing that they will fit properly and perform well without breaking is vital. Great tools, excellent mechanics and an uncompromising approach to quality is the Acespeed way."
To find out more about Acespeed Historic Motorsport, visit www.acespeed.co.uk