01 - Jul - 2015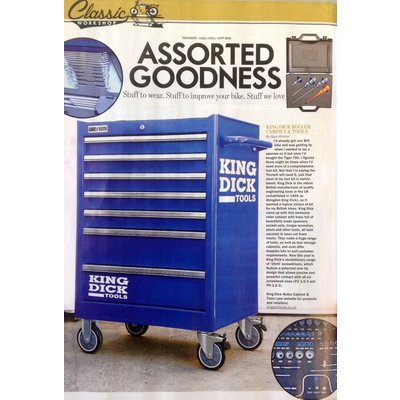 Classic Bike Magazine
Classic Bike Magazine chooses King Dick Tools – another satisfied customer!
King Dick Tools was the ideal choice for Classic Bike Magazine, as we can provide the complete range of tools, in imperial AF and Whitworth sizes – as well as Metric, of course.
We are delighted to see our product featured in their latest issue.
This tool kit utilises standard King Dick products, held in CNC manufactured foam inserts, within our heavy duty Roller Cabinet. Featuring a laser produced ID system, all the tools are laid out to provide optimum efficiency and security.
As always, these King Dick Tools are high quality and high performance at ultra-competitive prices.
As the new magazine Editor, Gary Pinchin, now owns two British bikes, he has the ideal tool kit to keep them on the road and in great order.
Contact us for more details on our range of products, and tool kits like this that can be created to your individual requirement.