01 - Nov - 2019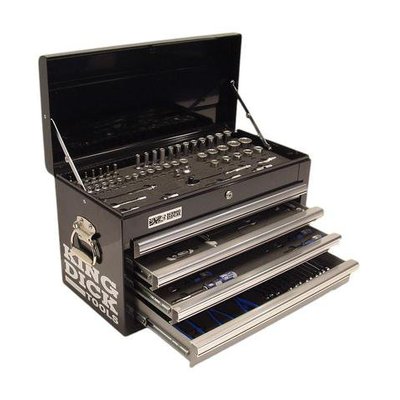 KDT Bargains at NEC Classic Motor Show
Positioned on the Federation of British Historic Vehicle Clubs (FBHVC) 'Village Green' at the entrance to Hall 5 of the NEC, King Dick Tools has six exclusive deals for visitors to the Classic Motor Show, the UK's biggest indoor motoring event.
From the Abingdon King Dick Heritage Collection, the trio of deals includes the popular wooden handled screwdriver box sets. Two classically styled screwdrivers featuring a modern design, Chrome-Vanadium through blade inside a traditional wooden handle. The heat-treated blades have extra-hards tips and are finished with Ni-Chrome plating. Presented in a sturdy case.
Available in two sizes, the PH2 crosstip is just £23.00, while the patented 146 crosstip for PH1,.2.3, PZ1.2.3 set is £26.00
The space saving AKD Tool Roll Toolests, available in AF or Whitworth sizes, is an ideal Christmas gift. The traditionally styles Tool Roll, comes complete with AKD Heritage Collection open end, adjustable, and box spanners, screwdrivers, pliers, hammer, feeler guages, grease gun, tyre pressure guage, and pen torch.
Not only does the Tool Roll have a £25 saving at just £275, but it also comes with a free one gallon Duckhams Classic Q Oil 20W-50 in its commemorative tin, worth £29.95.
Finally, anyone spending over £250 on the AKD Heritage Collection will also receive a free gallon of Duckhams Oil too.
From the 'modern range', King Dick Tools is offering a deal on the RPC2 Series all chrome Ratchets. The slim head design with super-fine 72 tooth reverisb;e ratchet mechanism, incorporating lock-on quick release. Made from Chrome-Vanadium, finished in mirror-polished Ni-Chrome plating. Buy the 1/4" Sq Drive for £23.00, half the usual retail price, or the 3/8" Sq Drive for £26.00, again nearly 50% cheaper than listed in the current catalogue. You can also buy the pair for only £45 - saving a grand total of £51!
There is also the King Dick Ratchet Combination Spanner Set in Whitworth sizes. This high-performance 7-piece Ratchet Combination set, all with 72 tooth fine Ratchet mechanism in slim design wrench, made from heat-treated Chrome-Vanadium, fully polished and finished with ultra-durable Ni-Chrome plating. Whitworth sizes 1/8", 3/16", 1/4", 5/16", 3?8", 7/16", and 1/2".
The At-Show deal of £199.00 saves you £28 on the usual retail price plus you'll get a free wooden handle screwdriver set worth £26.95 free.
But the best deal of all is on the King Dick Tools Top Chest Toolkit, available in AF, Whitworth and Metric sizes. This comprehensive Toolkit in a heavy duty steel Top Chest, with high-performance King Dick Tools including spanners and 3/8" and 1/2" drive socketry in Af, Whitworth and Metric sizes, plus screwdrivers, pliers, t-handles, and Hex keys, all contained in high density, CNC routed, Tool control foam inserts. Usually retailing at £1,600, for the NEC Classic Motor Show, it is reduced to £850.00. Plus, it comes with a gallon of Duckhams Oil worth £29.95.
Don't miss all these fantastic offers on the King Dick Tools stand, located on the FBHVC stand at the entrance to Hall 5 of the NEC Classic Motor Show.