13 - Feb - 2020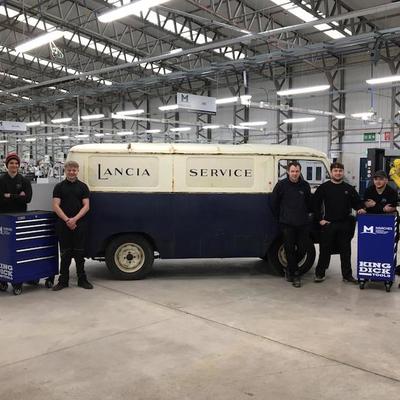 King Dick Tools supports the restoration of historic vehicles
Students at the Marches Centre of Manufacturing and Technology are benefitting from bespoke tool kits supplied by King Dick Tools. Studying at the Bridgnorth Training Centre, they are working towards a Level 3 engineering qualification.
The Heritage Vehicle Engineering course is focused on the maintenance and restoration of historic vehicles, although the unique nature of the training provided means it also encompasses other forms of transport from steam trains to aviation. It is due to the type and age of the projects being worked on that the tool kits supplied by King Dick Tools are so important, as they feature a full range of Metric, Imperial and Whitworth tools.
Used exclusively by the students to tackle all manner of engineering and fabrications tasks, they are being employed on a number of exciting projects. Currently being worked on in the training centre are a 1962 MG Midget and a VW Beetle, while the rare Lancia Jolly Van is one of only two in the UK.
"Having the correct tools to work on vintage and historic vehicles is vital" says the Operations Manager for the course, George Heeks. "It is the only way to ensure that the students can undertake proper repair and engineering tasks on an important part of our motoring heritage."
A course that is new to the Centre's prospectus, it only began in July of last year and it currently has eight students. It lasts for up to three years as part of an apprenticeship, and thanks to King Dick Tools they are learning how to repair and maintain wonderful historic vehicles for future generations of enthusiasts to enjoy.
Find out more about the course here