29 - Oct - 2019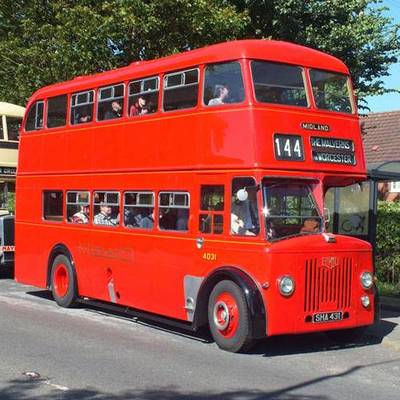 King Dick Tools joins FBHVC Village Green at NEC
This new and fascinating feature is located at the entrance to Hall 5 of the Lancaster Insurance Classic Motor Show, and has been created by the Federation of British Historic Vehicle Clubs (FBHVC) and its partners featuring a unique collection of exhibits.
If you wish to see some different vehicles at Lancaster Insurance Classic Motor Show then look no further than the Federation's stand. It will be difficult to miss as centre stage will be a Midland Red double decker bus. SHA 431 spent all its service life working from Birmingham Digbeth garage on routes from Birmingham to Coventry, Malvern, Solihull and Stratford. It was sold in 1967 to Foster Brothers, manufacturers and retailers of men's clothing. Fosters painted it green and used it daily to transport staff from their old factory in inner Birmingham to new premises in Shirley.
The chassis is a Leyland Titan PD2/12 Special; between 1923 and 1970 Midland Red built its own buses but, from time to time, urgent needs for more new vehicles meant buses were purchased from outside manufacturers. 100 Leyland Titans were bought by Midland Red in 1952-3 with bodies modified to suit the company's styling ideas. It is believed SHA 431 is the only remaining example.
Electric vehicles are in the news everyday but they have been around far longer than many people realise, so we decided to show a selection. There is a 1912 Baker Electric Car, 1974 Zagato Zele city car and from 1940 an electric motor complete with bespoke gearbox created by the French manufacturer Lucien Rosengart as a direct replacement for the Austin 7 powerplant in the cars he built in Paris under licence. In the USA in the years 1899 and 1900 electric vehicles outsold all other types of car. In fact, according to the Census, 28 percent of all 4,192 cars produced in 1900 were electric. The Zagato was created for an entirely different reason, the company gained a reputation as a coachbuilder and styling house for many great names - Alfa Romeo and Aston Martin to name just two. But by the late sixties', manufacturers were taking styling in-house and producing cars like the Ford Capri and Datsun 240Z. Zagato were in trouble and their solution was to create a city car powered by electricity. This is the only car manufactured completely by Zagato and the vehicle remained in production until 1991.
Other vehicles on display include another Rosengart, this time a 1938 Sutosix SuperSept Coupe, the only survivor of five or six cars manufactured. The car has covered less than 8,900 kilometres from new and the owner has researched the full history including the original bill of sale. By complete contrast there is a Trojan from 1927, named the Utility it was very basic. This car has the three optional extras available at the time - pneumatic rather than solid tyres, a windscreen wiper and a calorimeter, used to measure the temperature of the water in the radiator. Trojan advertising at the time claimed 'over 200 miles, driving a Trojan is cheaper than what you would pay in shoe leather and socks.'
Check out too the 1914 Matchless 8B MGC (Machine Gun Corps) combination, this prototype was offered to the British Army but they did not place an order so Matchless offered the machine to Russia but they did not order either; it is amazing that it has survived for so many years!
The Federation is joined on the Village Green by its partners Peter James Insurance, Duckhams, paint manufacturer Glasurit, King Dick Tools and Cambridge & Counties Bank. The partners are also displaying vehicles. Whilst King Dick Tools only manufacture tools in the UK these days, they have made rifles and motorcycles amongst many other things. The AKD [Abingdon King Dick] Model 40 was manufactured in 1930 and is the only surviving example. But for a real heritage fix, have a look at the stand of Cambridge & Counties Bank . . . they are showing a 1955 ex-works development TR2. This car is being restored and you will have the opportunity of meeting apprentices from the Heritage Skills Academy and examining period photographs showing the Apprentice Training School in the mid-fifties!
Don't miss this eclectic display at the entrance to Hall 5 of the Lancaster Insurance Classic Motor Show, with Discovery, held at Birmingham's NEC from 8-10 November. Tickets on sale at www.necclassicmotorshow.com.